Sage One for Small Businesses
Sage One Accounts is an accounting service for small business owners who want greater control of their finances, but don't have an accounting background or time for software training. It simplifies the way business owners can manage their finances and as it's an online service, you can collaborate with your accountant in real time. Designed for ease of use, with the Sage standard of customer support, you can access your businesses accounts at anytime from anywhere with an internet connection.
Sage One has been developed with small business interests at its heart and is based on customer feedback, keeping it simple whilst providing the level of functionality and reporting you would expect from accounting software. You can:
Create and email great looking, personalised invoices
Manage the money in and out of your business
Record purchase invoices and other expenses
Keep track of outstanding sales and purchase invoices
Complete your VAT return for HMRC and submit it online
Run reports, such as a Profit and Loss report, to see how your business is performing
Manage all of your customers and suppliers in one place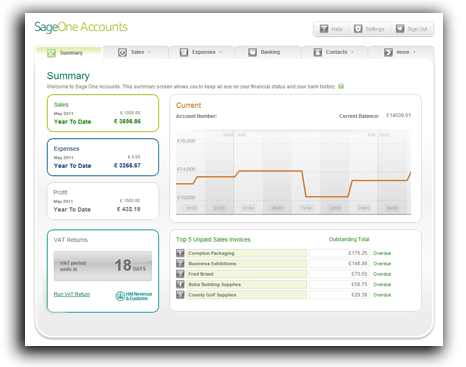 Sage take security very seriously and as Sage One is an online service, you never need to worry about losing your data. You'll always be using the most up to date version of the service as they provide automatic updates, so if the VAT rate ever changes, you don't need to worry about it.
Sage One comes with free 24/7 telephone support, in addition to an online help centre, so you can always get the help that you need when you need it.